Asset Protections for
High Net Worth &
Business Owners,
Buyers and Sellers!
Asset Protections

Wealth, Business and High Net Worth Protections

Wealth.Lawyer™ | Wealth.Attorney™

1-877-Win-4-You™ | info@Wealth.Attorney ™

Expert California Attorney, Over 33 Years Experience;
Rated 10 out of 10, Superb, Most Honored Attorney Award

Law, Living Trust, Small Business Protections Library Resources, Blog and Estate & Asset Protection Videos

Articles
Owner Protections:
Lawful Legal Protections; Yes They Exist; No Hiding Necessary * California Law

* Special California Cannabis Industry Entity & Asset Protections based in California Law;
* Legal Protections that protect legal business operations and or owners
* Legal Protections that may even be available if being sued,
have judgments or may be sued in the future
Enjoy a legal article written after lessons learned starting over 28 years ago as a Beverly Hills business manager to the stars. Yes there are lawful legal protections available to owners without offshore or hiding assets or vulnerable fraudulent transfers of assets.

Rich Rydstrom won $1.6m on a contract with cash of of some $84,000. Protect your personal and business assets before you enter any contracts including NDAs.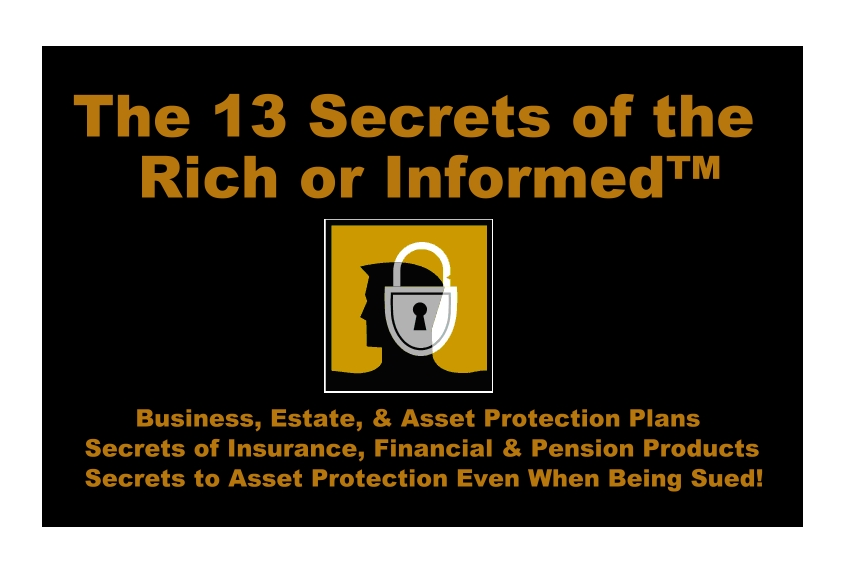 Business Examples that Need Asset Protections:
From Doctors to Dealerships, from Retail to Wholesale, owners must structure their personal and business affairs for predictable outcomes.

Example: Auto, RV, ATV, Truck Dealerships

Buy Sell Agreements / Escrow / Leases

Litigation

Small Business and Franchise Lawyer Orange County (OC) California
Wealth.Lawyer™ | Wealth.Attorney™

1-877-Win-4-You™ | info@Wealth.Attorney ™

Expert California Attorney, Over 33 Years Experience;
Rated 10 out of 10, Superb, Most Honored Attorney Award

Law, Living Trust, Small Business Protections Library Resources, Blog and Estate & Asset Protection Videos

Orange County (OC) Small Business Franchise Lawyer Services:

"Buy Sell and negotiation services for buyers or sellers are key for realizing predictable outcomes. Even in asset purchase deals, the buyer is exposed to outstanding seller liabilities. Owners should also protect their personal and business property before entering the first agreement or NDA." Attorney Rich Rydstrom, Rich@Rich.Law

As former family owned and operated Hess Gas Station, Rich Rydstrom offers services as: Attorney for Hess Gas Station Franchise; Attorney for Shell Gas Station Franchise; OC Attorney for Gas Station Franchise; Attorney for TexacoGas Station; Attorney for Sunoco Gas Station; Attorney for Mobil Gas Station; Attorney for Race Trac Gas Station; Attorney for 7-11 Gas Station; Attorney for BP Gas Station; Attorney for Chevron Gas Station; Attorney for AMPM Gas Station; Attorney for Circle K Gas Station; Attorney for Marathon Gas Station; Attorney for Express Gas Station; Attorney for QuikStop Gas Station, Attorney for Kangaroo Gas Station, Attorney for Dash In Gas Station, Attorney for Street Corner Gas Station

As a former family owner of a restaurant franchise, Rich Rydstrom offers services as: Attorney for Fatburger franchise, Attorney for McAliaters franchise, Attorney for McDonalds franchise, Attorney for Carls Jr. franchise, Attorney for In N Out burger franchise, Attorney for Burger King franchise, Attorney for Taco Bell franchise, Attorney for Sonic franchise, Attorney for Starbucks franchise, Attorney for Jersey Mikes franchise, Attorney for Subway franchise, Attorney for Anti Annes franchise,Attorney for KFC franchise,Attorney for Popeyes franchise,
Attorney for Jack in the Box franchise, Attorney for Del Taco franchise, Attorney for Peets Coffee franchise, Attorney for WingZone franchise, Attorney for Cracker Barrels franchise, Attorney for Cinnabunn franchise, Attorney for Haagen Dazs franchise, Attorney for Jamba Juice franchise, Attorney for Carvel franchise, Attorney for A&W franchise, Attorney for Pet Mobile franchise, Attorney for Aussie Pet Mobile franchise.

As an attorney from a small business family, Rich Rydstrom offers services as: Attorney for Chevrolet auto dealership franchise, Attorney for VW auto dealership franchise, Attorney for Mitsubishi auto dealership franchise, Attorney for Ford auto dealership franchise, Attorney for Jeep auto dealership franchise,Attorney for Dodge auto dealership franchise, Attorney for Chrysler auto dealership franchise, Attorney for Lexis auto dealership franchise, Attorney for Mercedes Benz auto dealership franchise, Attorney for Ferrari auto dealership franchise, Attorney for Bentley auto dealership franchise, Attorney for McLaren auto dealership franchise, Attorney for Audi auto dealership franchise, Attorney for Aston Martin auto dealership franchise, Attorney for BMW auto dealership franchise, Attorney for Nissan auto dealership franchise, Attorney for Hyundai auto dealership franchise, Attorney for Cadillac auto dealership franchise, Attorney for Honda auto dealership franchise, Attorney for Toyota auto dealership franchise, Attorney for Infinity auto dealership franchise, Attorney for Kia auto dealership franchise, Attorney for Volvo auto dealership franchise, Attorney for Porsche auto dealership franchise, Attorney for Acura auto dealership franchise, Attorney for GMC auto dealership franchise, Attorney for Subaru auto dealership franchise, Attorney for Alfa Romeo auto dealership franchise, Attorney for Lamborghini auto dealership franchise, Attorney for Scion auto dealership franchise, Attorney for Smart auto dealership franchise, Attorney for Buick auto dealership franchise, Attorney for Fiat auto dealership franchise, Attorney for Jaguar auto dealership franchise, Attorney for Land Rover auto dealership franchise, Attorney for Lincoln auto dealership franchise, Attorney for Lotus auto dealership franchise, Attorney for Maserati auto dealership franchise,
Attorney for Mini auto dealership franchise, Attorney for Pagani auto dealership franchise, Attorney for Mazda auto dealership franchise, Attorney for Roll Royce auto dealership franchise, Attorney for Bugatti auto dealership franchise.,

Business Attorney Richard Rydstrom has experience as a former family owner and or operator of a franchise, gas station and restaurant, and understands the key concerns of owners and operators, and can guide you to a successful legal structure for your business, restaurant, franchise, gas station or dealership so you are positioned to succeed. Business Attorney Richard Rydstrom can help you negotiate your business agreements, protect your own brand and locations, draft or negotiate your agreements for you, assist you in your purchase or sale of an existing or new business or location, franchise, restaurant, gas station, or dealership.

Rich@Rich.Law

1-877-WIN-4-YOU

949-678-2218 (California)
info@wealth.attorney